6 degrees of freedom
You'll face challenges when scanning with projection technology. Complex objects will require you to repeatedly reposition the model and be fully engaged in the scanning process. We've solved this problem. The D3D-s was designed to not require repositioning, so all you have to do is place the object on the table and start scanning. Thanks to its 6 degrees of freedom, the scanner can access any part of the model.
Retina resolution
In 3D scanning, accuracy that allows details to be discerned is paramount. For example, if some scanner has a scan area that is 90x80x55 mm and a 1.3 MP camera, then the width resolution will be 0.070 mm (90 mm/1280 pixels), and the height resolution will be 0.053 mm (55 mm/1024 pixels). You're unlikely to get an accurate model with parameters like that. We've solved this problem too! The vertical accuracy of the D3D-s reaches 0.010 mm, and the horizontal accuracy is up to 0.015 mm. Our projector's step resolution is 0.000625 millimeters. That's more than 84 times the resolution of projection scanners. We even had to limit the maximum resolution in order to get you a finished result within 7 minutes. These specifications are significantly superior to all other existing scanners! This is possible because of the 5 MP camera and high-quality lens. By the way, the lens is very important if you value quality. Such lenses are used to inspect products in machine vision applications at factories. The camera's high resolution is also important for creating high-quality textures. Thus, the D3D-s is the world's most accurate jewelers' scanner.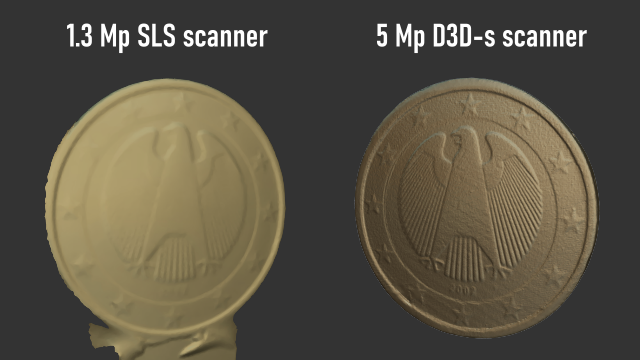 Scanning examples
This is a model of a ring scanned with maximum precision.

This is a model is an inexpensive brooch scanned in quick mode. Note the complexity of the model. It's difficult to scan this many crystals if the scanner has less than 5 degrees of freedom in its movement.

This signet ring is old and curved. It has a complex shape. But none of this is a problem for the D3D-s. It accurately reproduces all the flaws of the original model.

The D3D-s scanner has no trouble producing a 3D model of an ancient mantra engraved in stone.

The large scanning area lets you scan more than just jewelry.

Before you buy a scanner, ask the seller to scan a 2 euro coins with radial lines. This will make everything clear immediately. Here are two models. One was scanned with a very expensive 3D projection scanner. The other — with the D3D-s scanner for jewelers.

Walnut

Comparison jewelers scanners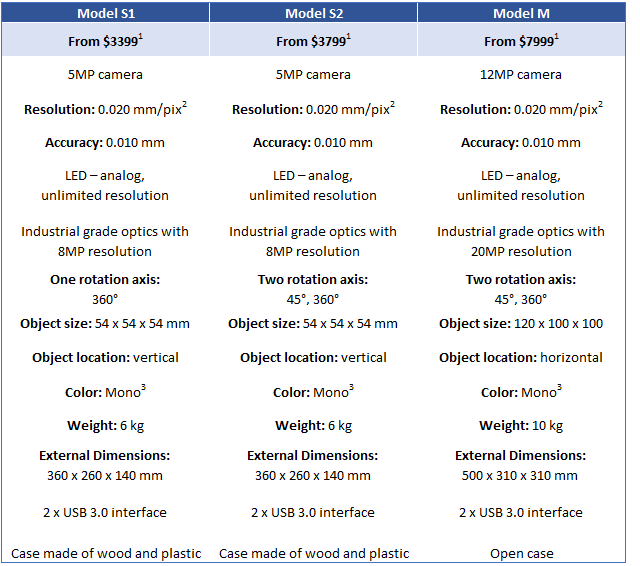 1) This information is not indicated in official documentation. We calculated it, and it may be incorrect. 55 mm/1024 pixels = 0.053 mm

Technical Specifications
Scanning Volume on turntable: ∅ 100x130mm / ∅ 3.937 x 5.118 inches
Resolution in width: 15 microns
Resolution in height: 10 microns
Maximum weight on turntable: 2kg / 4.4 lbs
Light: LED light 945 Luminous Flux (lm)
Color: Mono
Connectivity: 2xUSB (Camera, PC)
Autonomous Scanning: Computer connection required
Software: Windows Based
External Dimensions: 600 x 300 x 420mm / 23.622 x 11.811 x 16.535 inches
Weight: 10kg / 22 lbs
Minimum System requirements
64-bit Windows 7/8/10
8 GB RAM
OpenGL 3.2 compatible graphics card with 2 GB RAM
Fast SSD (recommended)
4GB of HDD free space
2xUSB 3.x (recommended)
EMBARGOED AND SANCTIONED COUNTRIES
We restrict exports to certain destinations: Crimea - Region of Ukraine, Russia, Venezuela, People's Republic of China, Iraq, North Korea, Balkans, Belarus, Central African Republic, Congo, Iraq, Lebanon, Liberia, Libya, Somalia, Sudan, Syria, Yemen, and Zimbabwe, Cuba, Iran, Cyprus, Vietnam, Sri Lanka.
Electronics
We're proud of the electronics we developed specifically for this scanner. The four-layer circuit board distributes heat efficiently. Each part was selected for its high speed and accuracy. The electric motor is controlled by a L6472PD microcontroller. This lets us accelerate and slow the motor smoothly, and it supports other very powerful functions. It's so awesome that we can't sell it in Russia, since it can be used to make rockets.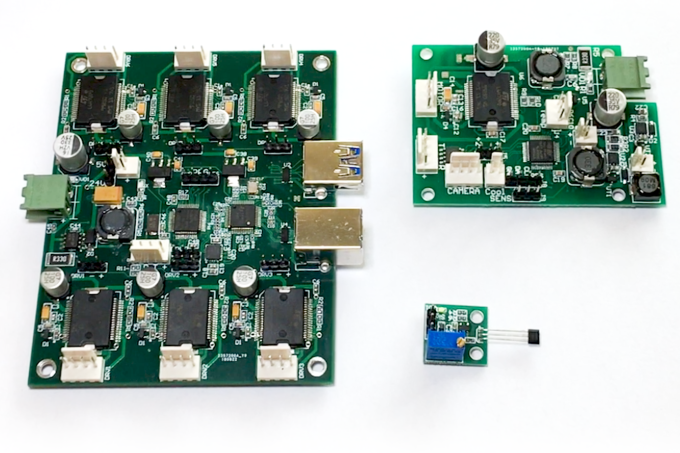 Software
We developed software specifically for the D3D-s with lots of unique features. The software is currently available for Windows 7/8/10. Once the scanning is done, you'll get an STL file that you can open in any program that supports STL files, such as ZBRUSH, RhinoGold, MatrixGold, Jewelery cad dream and more.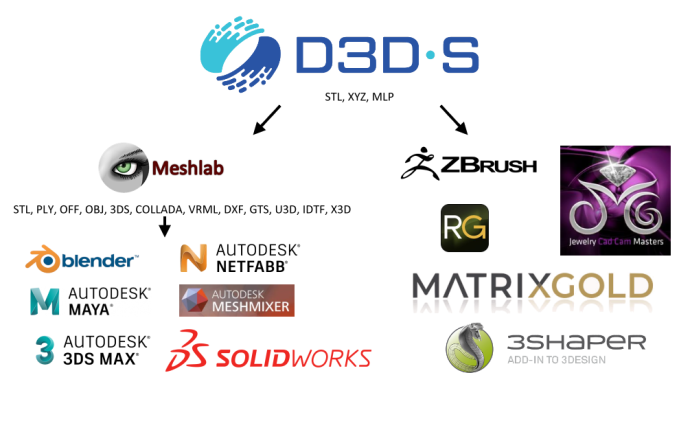 How did we make the D3D-s affordable?
The scanner is made of parts that are used in 3D printers and can be purchased one piece at a time. Only a few parts, such as the projector, mount, etc., are manufactured to order in small batches. Thus, we don't have to make a huge batch of scanners. This significantly reduces our costs and investments.
Combining two scanned models
Jewelers unfamiliar with 3D scanners often wonder how to remove the clips that hold the model. The answer is very simple — scan the model twice with the clips in different places. Then use special software, such as MeshLab (a free open-source program) to combine the models and remove anything undesired. In this video, you can see how to do this in a few clicks.

Replacing models on the platform
Our model platform attaches to the scanner with magnets. This means you can use different platforms. We also made sure that the models were easy to change. Take a look at how easy it is to attach any model.

LED-line technology
Compared to laser sources, the light LED-projector ensures more uniform illumination in addition to sharp edges and no speckle effect.